What You Need to Know When Planning a Funeral
Tuesday, December 20, 2022
The passing away of a loved one is a challenging and stressful time for the family. Making critical financial decisions for the last rites can be an additional burden for family and friends who are grieving the loss of a loved one.
Planning a funeral in advance can take the edge out of the grieving process and help with healing. That is why a funeral should be planned beforehand. A funeral plan involves putting arrangements in place and covering the cost in advance. Prepaid funeral plans can be cheaper than funeral insurance or funeral bonds but may be non-transferable should you move to another state. Because of lower protections in the Australian Capital Territory, Northern Territory and Western Australia, people in these states might benefit more from funeral bonds or go for a deposit with regular instalment payments over time.
Once your funeral arrangements are made and costs are covered, your family and friends can grieve the loss rather than being preoccupied with suddenly arranging a funeral that might prove to be more expensive compared with a prepaid funeral.
There are many funeral planners who can assist you with your requirements. At Howard Squires Funerals, we are a proven, caring and trusted funeral adviser for many families for more than a century.
Therefore, we have the knowledge and experience in planning a funeral in a cost-effective and compassionate way.
Checklist for funeral plans
Here is a list of the most critical aspects to consider while making your funeral arrangements or for a loved one.
Venue
Meeting a clergy or a civil celebrant
Arranging the service
Printing items
Music
Food
Flowers
Inviting people
Transportation arrangement
In this pre-planning stage, another essential element is a death certificate. It is a legal requirement that must be complied with. Every death in Victoria must be registered with the Registry of Births, Deaths & Marriages.
Once a death is registered with the government office, it will provide a formal death certificate for any legal and estate issues.
Howard Squires Funeral can help you with obtaining the death certificate as well. In our first meeting, we collect essential personal information about the client. This information may include the client's full name, occupation, date and place of birth as well as the names of their parents and children, among other details.
You also have the option to pre-fill an online form, which you can submit when we meet for the first time.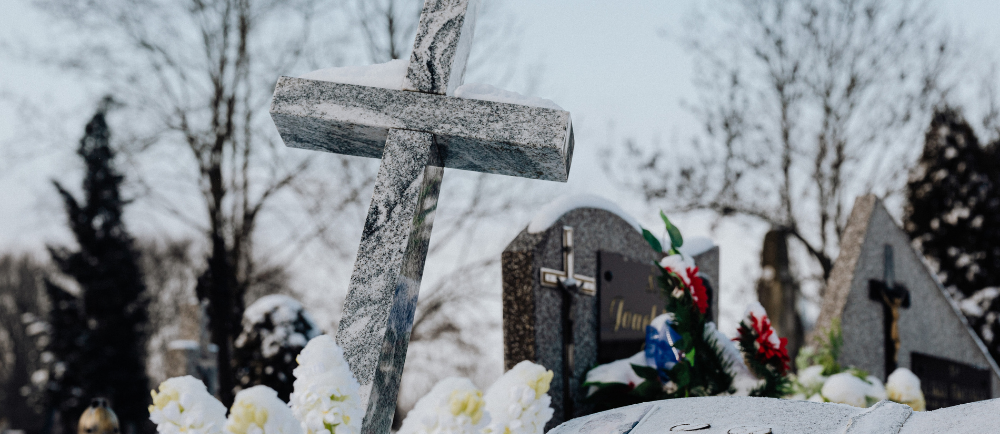 When to start making funeral plans?
It is never too early to start planning for your last rites. The earlier you start doing it, the more likely it will be conducted as per your preferences.
It is also essential that you start investing for it early on so that it's neither a burden for you at the end of life nor your family in case of sudden death. Pre-planning the funeral locks in the current prices and saves a lot of money.
In addition, you never know if in the end, certain circumstances arise that affect your spending capacity. In that case, only prepaid plans can rescue you because then only the funeral plans will still be in place as per your wishes.
Many funeral directors offer prepaid funeral plans from which you can choose the one that best suits your needs. Howard Squires Funerals, as a funeral planner, provides various financial solutions tailored to your requirements.
You can choose any one among the following financing options:
Pay in total —- the price is fixed.
Funeral Bond (Unassigned Investment)
• You may wish to invest a specific amount to pay for funeral expenses and receive interest on those funds
• A specific funeral director is not appointed, nor are specific funeral arrangements made
• After death, the investment is paid to the executor to contribute to the funeral expenses. If sufficient funds were not invested initially or the investment does not perform reasonably, the executor or estate is liable for any shortfall in funds
• This type of funeral bond is only exempt from an assets test up to the value approved by Centrelink. Please refer to www.centrelink.gov.au
• Centrelink must be informed if a funeral bond is availed, regardless of the amount invested
Funeral Insurance
We strongly recommended that you read the fine print carefully before investing in funeral insurance. Some important points that you should bear in mind are: Premiums generally increase yearly, and (depending on the policy selected) also with inflation.
Projections calculated by the Australian Funeral Directors Association (AFDA) indicate that a 60-year-old individual starting a funeral insurance plan would contribute approximately: $7,000 by age 70, $14,000 by age 75, $28,000 by age 80, and $80,000 by age 90.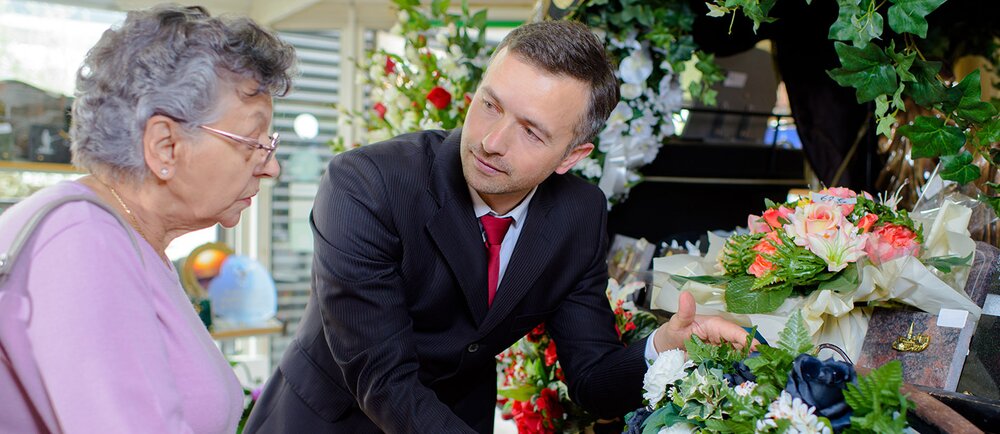 Different funerals with different requirements
Every memorial service is different and unique in its own way. Each family or individual wishes to do it their way, following all their religious customs and traditions.
This is why various funeral planners are there who can help you honour the desires of a deceased loved one in the best possible way.
To make the funeral service unique and different, various personalised services are available, such as coffins & caskets, floral tributes, memorial books, and music.
Coffins & Caskets — A coffin is tapered at the shoulder with a removable lid, while a casket is rectangular and has a hinged lid. They hold the body of a deceased person.
Flowers —- Flowers are an intrinsic part of a funeral. We suggest you choose those flowers that the deceased person loved the most.
You can also choose the type of floral arrangement you would like to offer at the funeral service. The various types of floral arrangements include double/single-ended casket spray, a small cross, a small heart, a tied sheaf, wreaths, letters mixed with flowers, a basket of petals, and a ceramic vase with flower arrangements, among others.
Memorial books —- These are meant to celebrate the life of a deceased person. The guests write a message involving their relationship with the deceased, some offer short anecdotes reflecting on fond memories, and some just write their names. Howard Squires Funeral offers a unique collection of memorial books to celebrate the life of your loved one.
Music —- There are three types of music involved during the funeral ceremony—-entry, reflection and exit. You can have recorded music with a special song, hymn or live music for the service. If you want live music played by a band, vocalist, piper, bugler, pianist, organist, or string quartet, that can be organised as well. All the three types of music songs can be arranged as per your preference.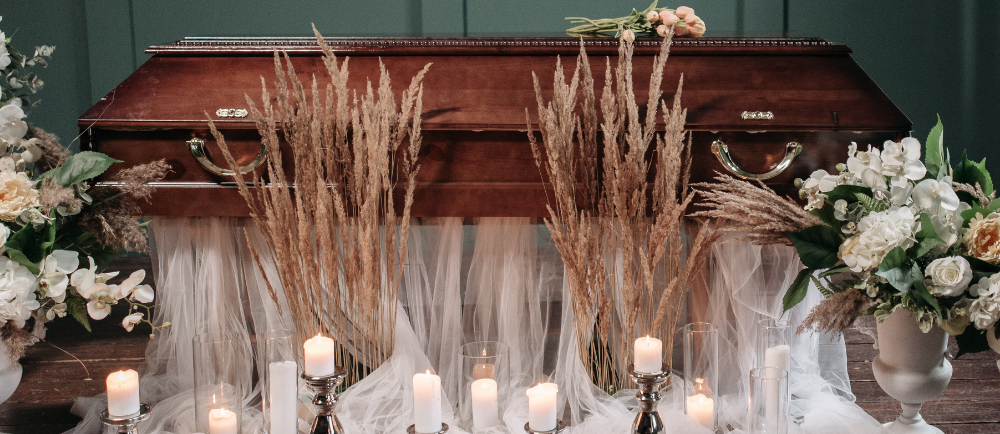 Reasons to plan a funeral with Howard Squires Funerals
We have had the privilege of guiding families through the passing of their loved ones for over 100 years.
We can tailor any creative innovation like a motorcycle with a sidecar to carry the casket, a cavalcade of vintage cars, special decor, a unique location or a funeral notice section.
In case of sudden death, our priority is to transfer your loved one into our care and then discuss funeral arrangements.
We render our account 10 days after the service.
Our team can guide you through pre-planning your funeral or for a loved one.
We have prepaid funeral plans available with transparent pricing.
Our approach has always been delicate and kind while planning or pre-planning a funeral. We seek to provide maximum support and reassurance to the grieving family during a time of loss. By playing our part efficiently, we want to make this difficult time a little easier for you to bear by taking care of each arrangement of the memorial service.
We offer our services in Mitchell Shire (Seymour, Kilmore, and Wallan), regional Victoria and metropolitan Melbourne. For a personalised fee proposal or 24-hour service and enquiries, please call our funeral planners at 1300 881 691 or submit your query via our form.
Previous Posts
Types of Funeral Services: Church Funeral Service: A church funeral service is held in a place of worship and is a popular choice for those who are actively involved in a religious community. Adv...